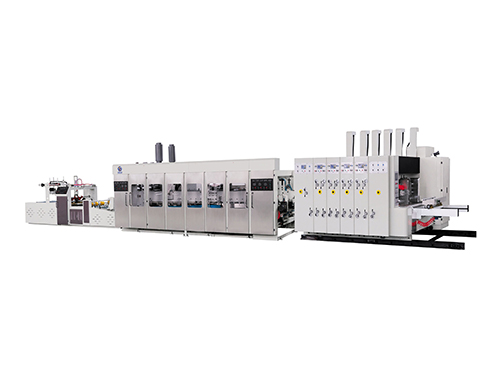 Full automatic high speed flexo printing slotting rotary die cutting link line
Integrated CNC control system, trouble-shooting, production management, remote maintenance.
ORDER NOW

Use and Characteristics:
◆ Integrated CNC control system, trouble-shooting, production management, remote maintenance.
◆ Quick printing plate mounting, motorized phase zero.
◆ Powerful dust remover, with anti-static bar, centralized dust collection, less ECT loss.
◆ High precious transfer structure with ceramics vacuum transfer wheel, good registration accuracy.
◆ Creasing-slotting unit, prevent creasing line from bursting, better folding.
◆ Counter ejector with down stacking.
◆ Choose international brand electric components and transfer bearings, pass CE certification
Folding gluing unit
◆ Constant temperature gluing system with big gluing wheel, reticulation gluing, motorized control glue wheel position.
◆ High rigid folding beam, ensure folding precision and high speed stability.
◆ Guide-way linear movement, high rigid beam fixed on the ground.
◆ Elastic wheel, motorized pneumatic adjust gap, smooth transfer.
◆ Folding finalize wheel correct fish tail, gap motorized control.
◆ Folding belt motorized driven, correct folding difference.
Plicing unit
◆ CNC linkage control, convenient and quick adjustment. The elastic guide wheel device, the upper and lower belts are clamped for transmission.
◆ Multiple chip removal device: wind knife, brush, electric roller brush, good effect except chip.

◆ The constant temperature adjustable glue system has constant glue temperature and ensures the best adhesion characteristics.

◆ Net hole type paste wheel system, gluing stability, rubber control amount, position electric control.

Count-ejector unit:
◆ High speed down counting stacking, prevent box smearing.
◆ Side squiring, pneumatic plat push.
◆ Several servo driven, high efficiency counting stacking.
◆ Count-ejector unit lateral move motorized control.
strapping unit:
◆ Adapt to automatic strapping after automatic stitching.
◆ Reduce rely on manpower, replace workers.
◆ Work is compact, no need human intervention.
◆ Carton boxes after strapping are mouth tight and solid, no rebound, less sticky box edge breakage, etc
◆ Less workers, higher speed, 2 ~ 4workers less than ordinary strapping machine, 10 to 20 workers less than manual strapping.
◆ Suitable for exported packaging, environmental packaging, such as drinks box, beer case, instant noodles box, ceramic tile box, these high class packaging carton boxes.