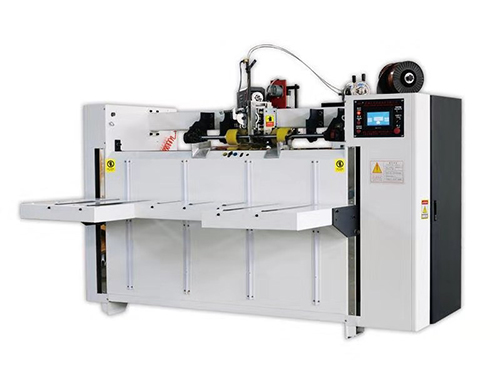 Semi automatic high speed stitcher carton machine single piece type
The distance of Nails from 20 to 120 mm, from automatic computing, the motor control is from Japan imported servo motor.
ORDER NOW

★ Yaskawa Japan imported dual-servo-driven,accurately precision, mechanical transmission are decreased, which can effectively reduce the mechanical failure rate.
★ Wei Lun touch screen operation, the parameter ( nail distance, nail number, nail types, tail gate) change conveniently.
★ The whole control system uses Omron PLC control system.
★ Electric control the tail gate, the use of stepper motor-driven, size accurate , size-changing is more convenient.
★ Keys control box uses the Siemens brand.
★ photoelectric and proximity switches is Schneider brand.
★ The under mold, blades is tungsten steel made in Japan (wearable)
★ entire nail heads group made of special steel , computer gong is precision making.
★ can nail single nail (/)Dual nail(/ /) strengthen nails (/ / / / / / two side are Dual nail, the middle part are single nail) once completed, can fit different customer requirements of different kinds of nails.
★ changing carton size and adjusting nails can be completed just one minute, saving time and easy operation.
★ can nail box with or without lid (with or without lid box should be informed to maker before machine making).
★ Department of automatic counting , feed units equipped with photoelectric sensors, when feeding, table automatically rise.
★ rear section with automatic counting function, the number of finished carton can be set (1-99) and transport to the machinery end, convenient for bundled package.
★ Mechanical speed: 500 nails / min
★ nails from :30-120mm (adjustable)
★ table lift Height :: 900mm
★ machine size: Host 2.8x2.7x2 m
★ Weight: 2000kg.
| | | | |
| --- | --- | --- | --- |
| Max.(L+W)x2 | 2460mm | Length of machine | 2800mm |
| Min.(L+W)x2 | 606mm | Width of machine | 2600mm |
| Max.(W+H)x2 | 1515mm | weight | 2000kgs |
| Min.(W+H)x2 | 400mm | Speed | 500 stitches/min |
| Hight of feeder | 900mm | Stitching distance | 30-60mm |
| Power | 6HP | Nails NO. | 1-99 nails |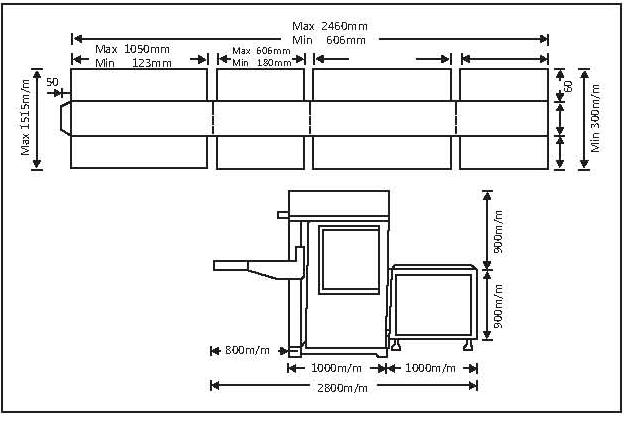 | | | | | |
| --- | --- | --- | --- | --- |
| No. | Name | brand | origin | Remarks |
| 01 | servo motor head | Yaskawa | Japan | |
| 02 | servo motor feed | Yaskawa | Japan | |
| 03 | PLC | Omron | Japan | |
| 04 | contactor relay | Siemens | Germany | |
| 05 | Reducer | Parker | Taiwan | 2 |
| 06 | Reducer | real reputation | Hangzhou | 2 |
| 07 | photoelectric proximity switch | Schneider | France | |
| 08 | touch screen | Wei Lun | Taiwan | |
| 09 | circuit breaker | Schneider | France | |
| 10 | universal joint | zhuyu | Taiwan | |
| 11 | bearing | renben | Jiangsu | |
| 12 | the whole set of Stud | | Taiwan | |
| 13 | blade | | made of tungsten alloy steel | resistant to wear |
| 14 | the under mold | | making tungsten alloy steel | corrosion-resistant |
| 15 | cylinder | solenoid valve | AIRTAC | Taiwan |